D.O.V.E. Fund Scholarship Program
As Vietnam strives to be recognized as an emerging global economy, the government, realizing the importance of education, has raised academic standards and made a significant commitment to education. In 2020, the D.O.V.E. Fund will renew its commitment to provide deserving students with scholarships and academic support.

From 2005–2020 thanks to D.O.V.E. Fund donors,
nearly $420,000 has been invested in the children of
Vietnam with 4,681 scholarships awarded.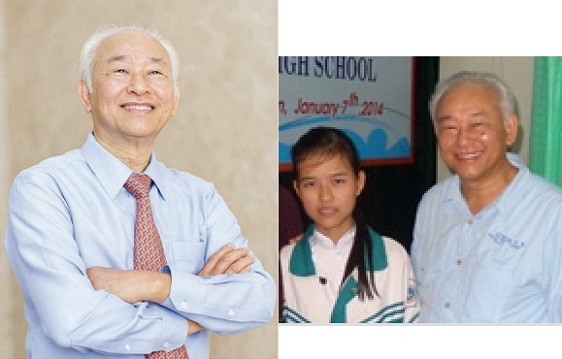 Do Nguyen is with a D.O.V.E. Fund Scholarship Recipient (High School Student) in Quant Tri Province.
At the prestigious Ho Chi Minh University of Technology, we will continue to provide 20 scholarships to underprivileged students who have demonstrated scholastic aptitude and a solid work ethic.

Education in Vietnam is now compulsory and universal through grade 9. A high school education is available only to students whose families can afford tuition and fees. The High School Scholarship Program makes secondary education a reality for 180 students at Quang Tri and Hai Lang High Schools.

A new scholarship honoring humanitarian and founding D.O.V.E. member Do Nguyen has been established to cover the cost of the first year of college for 15 D.O.V.E. Scholars; allowing students to focus on academic goals while they adjust to a new learning environment.

Do, also a graduate of Quang Tri High School, came to the United States in 1974 to continue his education at Bowling Green State University. It is our hope that this opportunity will inspire the students to follow Do's example, persue higher education, and use their gifts to serve others..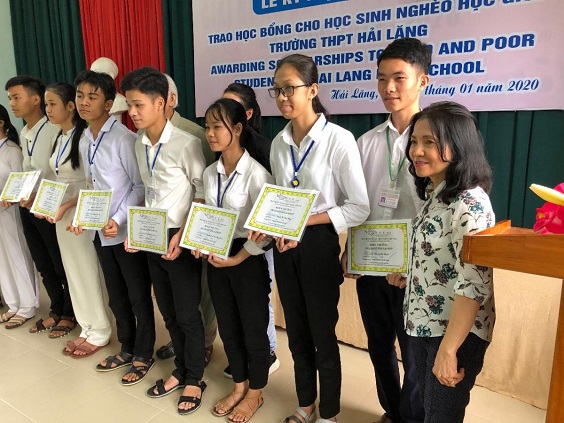 D.O.V.E. Fund trustees distribute scholarships to students at Hai Lang High School

Education is key to breaking the cycle of poverty.

With your help, we can continue to meet the $40,000 goal to fund scholarships for the coming school year. Your generosity and support will provide a brighter future for the children of Vietnam.

Contact The D.O.V.E. Fund:
20years@dovefund.org

---
Click here to Donate
---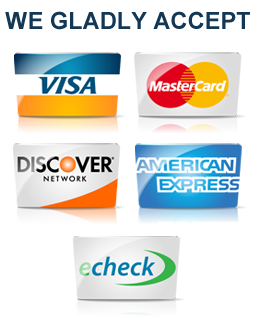 For those who prefer to use their credit card or electronic check to donate, you can us our secure website donation service.

Those wishing to make a donation by mailing a check or money order, please make all checks payable to D.O.V.E. Fund.
Mail to:
D.O.V.E. Fund
P.O. Box 350741
Toledo, OH 43635